Spurs announce preseason schedule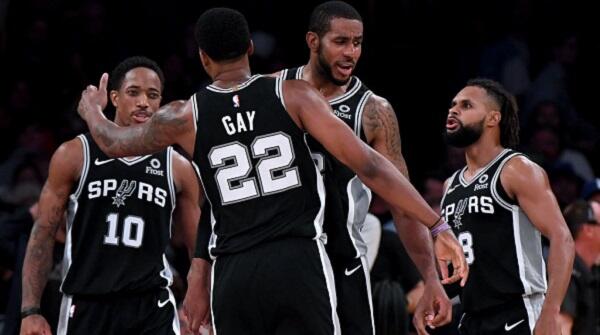 The San Antonio Spurs have announced a five-game 2019 preseason schedule that tips off at home on Oct. 5 and includes three contests inside the AT&T Center.
The Spurs will tip off the 2019 preseason campaign at home, hosting the Orlando Magic at the AT&T Center on Saturday, Oct. 5. Games against the New Orleans Pelicans on Sunday, Oct. 13 and the Memphis Grizzlies on Friday, Oct. 18 will round out the home slate. The Silver and Black will travel to Miami to face the Heat on Tuesday, Oct. 8, and will play the Rockets in Houston on Wednesday, Oct. 16.
Preseason Schedule:
Saturday, October 5 at 7:30 p.m. vs. Orlando Magic (AT&T Center)
Tuesday, October 8 at 6:30 p.m. at Miami Heat (American Airlines Center)
Sunday, October 13 at 3:00 p.m. vs. New Orleans Pelicans (AT&T Center)
Wednesday, October 16 at 7:00 p.m. at Houston Rockets (Toyota Center)
Friday, October 18 7:30 p.m. vs. Memphis Grizzlies (AT&T Center)
Photo: Getty Images

SPURSWATCH
For more than 35 years, 1200 WOAI has been the proud flagship of the San Antonio Spurs. From before the opening tip off with the Spurs Warm-Up Show, to each play during the game, to well after the final buzzer with Spurs React, you can depend on...
Read more