Spurs Announce 2019-2020 Schedule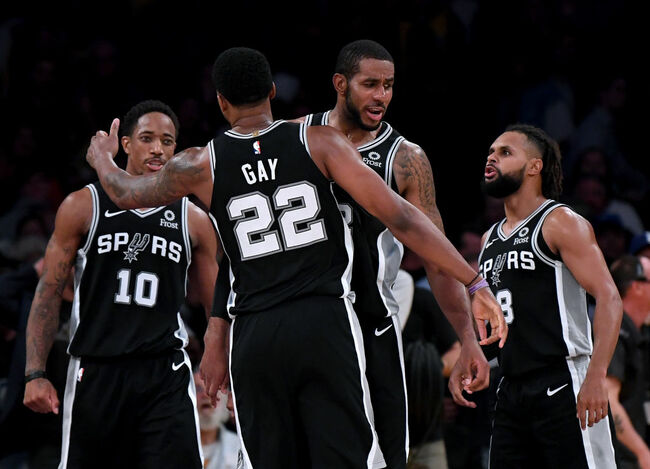 The Spurs have released their 2019-2020 schedule today. The Spurs will tip-off the regular season with a home game on Wednesday night, October 19th against the New York Knicks. They'll follow that up with two more home games against the Wizards and Trail Blazers, before going on the road, with their first roadgame against the L-A Clippers. Every Spurs game can be heard live throughout the season, on News Radio 1200 WOAI.
Oct. 23 vs. New York
Oct. 26 vs. Washington
Oct. 28 vs. Portland
Oct. 31 at L.A. Clippers
Nov. 1 at Golden State
Nov. 3 vs. L.A. Lakers
Nov. 5 at Atlanta
Nov. 7 vs. Oklahoma City
Nov. 9 vs. Boston
Nov. 11 vs. Memphis
Nov. 13 at Minnesota
Nov. 15 at Orlando
Nov. 16 vs. Portland
Nov. 18 at Dallas
Nov. 20 at Washington
Nov. 22 at Philadelphia
Nov. 23 at New York
Nov. 25 vs. L.A. Lakers
Nov. 27 vs. Minnesota
Nov. 29 vs. L.A. Clippers
Dec. 1 at Detroit
Dec. 3 vs. Houston
Dec. 6 vs. Sacramento
Dec. 12 vs. Cleveland
Dec. 14 in Mexico City vs. Phoenix
Dec. 16 at Houston
Dec. 19 vs. Brooklyn
Dec. 21 vs. L.A. Clippers
Dec. 23 at Memphis
Dec. 26 at Dallas
Dec. 28 vs. Detroit
Dec.31 vs. Golden State
Jan. 2 vs. Oklahoma City
Jan. 4 at Milwaukee
Jan. 6 vs. Milwaukee
Jan. 8 at Boston
Jan. 10 at Memphis
Jan. 12 at Toronto
Jan. 15 at Miami
Jan. 17 vs. Atlanta
Jan.19 vs. Miami
Jan. 20 at Phoenix
Jan. 22 at New Orleans
Jan. 24 vs. Phoenix
Jan. 26 vs. Toronto
Jan. 27 at Chicago
Jan. 29 vs. Utah
Feb. 1 vs. Charlotte
Feb. 3 at L.A. Clippers
Feb. 4 at L.A. Lakers
Feb. 6 at Portland
Feb. 8 at Sacramento
Feb. 10 at Denver
Feb. 11 at Oklahoma City
Feb. 21 at Utah
Feb. 23 at Oklahoma City
Feb. 26 vs. Dallas
Feb. 29 vs. Orlando
Mar. 2 vs. Indiana
Mar. 3 at Charlotte
Mar. 6 at Brooklyn
Mar. 8 at Cleveland
Mar. 10 vs. Dallas
Mar. 13 vs. Denver
Mar. 14 vs. Minnesota
Mar. 16 vs. Memphis
Mar. 18 at New Orleans
Mar. 20 vs. Chicago
Mar. 22 vs. Utah
Mar. 24 at Utah
Mar. 26 at Minnesota
Mar. 27 at Denver
Mar. 29 at Golden State
Mar. 31 at Sacramento
Apr. 3 vs. Golden State
Apr. 5 vs. New Orleans
Apr. 7 vs. Sacramento
Apr. 8 at Houston
Apr. 10 vs. Philadelphia
Apr. 12 vs. Houston
Apr. 13 at Indiana
Apr. 15 vs. New Orleans
Photo: Getty Images

SPURSWATCH
For more than 35 years, 1200 WOAI has been the proud flagship of the San Antonio Spurs. From before the opening tip off with the Spurs Warm-Up Show, to each play during the game, to well after the final buzzer with Spurs React, you can depend on...
Read more