No NFL Team Will Be Afraid of Lamar Jackson in Bad Playoff Weather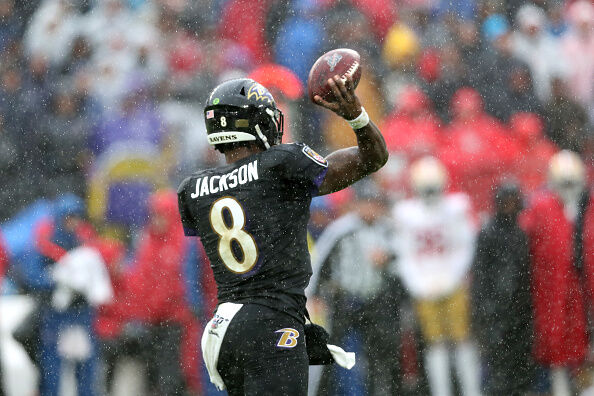 Ben Maller:

"We have finally found a weakness with Lamar Jackson. The hyperbole has told us that NOBODY can stop Lamar Jackson, but the San Francisco 49ers showed us all how to stop him – YOU PUT A GAME IN THE ELEMENTS. Jackson struggled to handled that nasty rain in Maryland and just threw for 105 yards. Jackson had ZERO completions of 20+ Air Yards and the fear factor wasn't there." (Full Audio at Bottom of Page)
Listen to Ben Maller explain why he's worried that Baltimore Ravens quarterback Lamar Jackson is going to be a liability come playoff time, a day Jackson threw for a season-worst 105 passing yards in their narrow-victory over the 49ers amid inclimate weather.
December and January weather can often slow down offenses in games played in the elements but it's not always a detriment either, as Aaron Rodgers threw for four touchdown passes and posted a 91.2 QBR in a snowy Meadowlands versus the Giants.
Jackson, however, struggled to move the ball throw the air, completing 14 of 23 for 105 yards and a touchdown, while adding 101 yards on the ground and a lost fumble. As lethal as Jackson is in ideal conditions, Maller thinks he might be negatively affected more than your average pocket passer considering how raw Jackson still is when tasked with completing long passes down the field.
Check out the audio below as Maller details why the now-number one seeded Ravens could become an upset candidate in the postseason if Jackson is forced to play multiple playoff games in rotten Baltimore weather.

The Ben Maller Show
Want to know more about The Ben Maller Show? Get their official bio, social pages & articles on FOX Sports Radio!
Read more